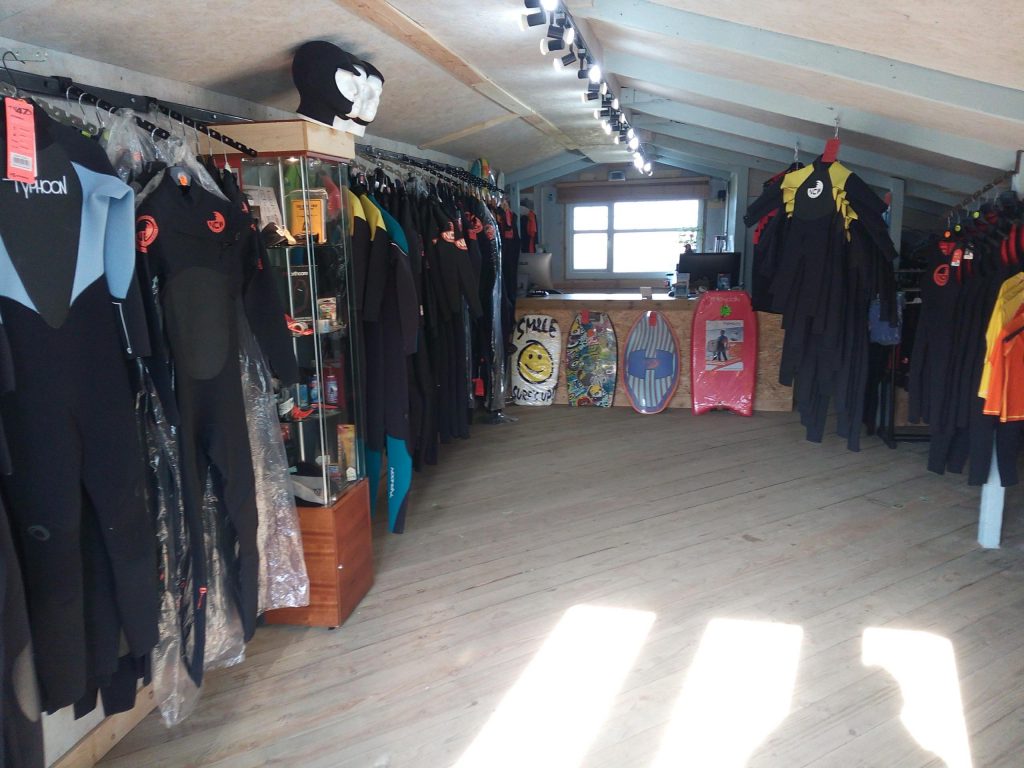 Here at The Rubber Shack, our wetsuit showroom and surf shop, we keep most of the stock lines you'll find on our website and more besides.
We stock the kit right here in our North Cornwall wetsuit showroom and surf shop that you'll need to keep you covered for most water based fun and activities. Our opening hours are usually 10am to 5pm most weekdays (see panel opposite) and we are often open at the weekend too. Other days / times outside of our listed hours may be possible if you give us a call in advance. We would advise you to call us ( 01208-880839 ) before you visit as we do not keep all stock items in all sizes at the showroom in all seasons. Coming to the wetsuit showroom and surf shop ? got old kit that you are not using ? or wetsuits / kit that does not fit anymore ? bring it along and we may be able to do a part exchange deal. Did you know we offer Pre-Loved wetsuit stock too? If you have any 'trash' wetsuits bring them to us as we can recycle them whilst doing repairs and alterations right here. Check out our great reviews on Google Business
North Coast Wetsuits, The Rubber Shack, Building 6, Rear of Glebe Farm, St Endellion, Port Isaac, Cornwall, PL29 3TP.
Our ONLINE business is trading as usual.
CORNWALL SHOWROOM NOW ALSO OPEN limited days and hours.

CLOSED MONDAY 18th OCTOBER
The showroom tends to be open 10am to 4pm Tuesday to Friday. Other days / times may be available by appointment. If you wish to visit it's probably best to contact us first to check we have what you need.  Please email for us for details or call 01208-880839.
We are checking the current Government COVID-19 outbreak advice on a day-by-day basis. The health and well-being of our staff & customers is very important. We are following the guidelines that have been issued. STAY SAFE.
Visiting Us
If you are coming to see us take the B3314 to St Endellion. As you reach St Endellion you will see the 15th century castellated church tower. Take the turning alongside the Church, sign posted Port Quin, towards the coast. Within a few yards you will see the entrance to the industrial units on your right (Explorer Marine are on the corner). Drive in as there is plenty of free parking. We are the building just past the boat-park on the left hand side.
If you use your Sat-Nav within a mile of us it will take you the wrong way, believe us! it happens a lot so please use the above directions.
Virtual look inside the Rubber Shack - click on the image below
The Rubber Shack's Vinyl Crate
Here at NCW's Rubber Shack we're 100% lovers of all kinds of music. In fact, NCW's head honcho is a bass player himself. Music, as with watery goodness, can soothe, relax and reset. Therefore as far as we're concerned the synergy's there which is why we introduced the Vinyl Crate at the Rubber Shack.
TAKE A LOOK
Photos in and around The Rubber Shack